Theatre of Dreams
Manchester United
A next-generation gaming and sports experience in the heart of Beijing
Overview
Local Projects is collaborating with Harves Entertainment and Manchester United Football Club to develop a series of branded entertainment and experience centers across China, including Beijing, Shanghai, Shenyang, and Changsha. The first of these groundbreaking attractions, called 'Theatre of Dreams', is located near Tiananmen Square in Beijing and opened in May, 2021.
The experience includes an interactive museum that celebrates Manchester United's 142-year history, an immersive gaming experience which allows visitors to become football players themselves, and a retail store that offers an unprecedented range of official Manchester United merchandise.
Partners
Harves, Manchester United FC, DreamCube Innovations
Services
Exhibit Design, Media Design, Media & Software Development, Game Design & Development
The Details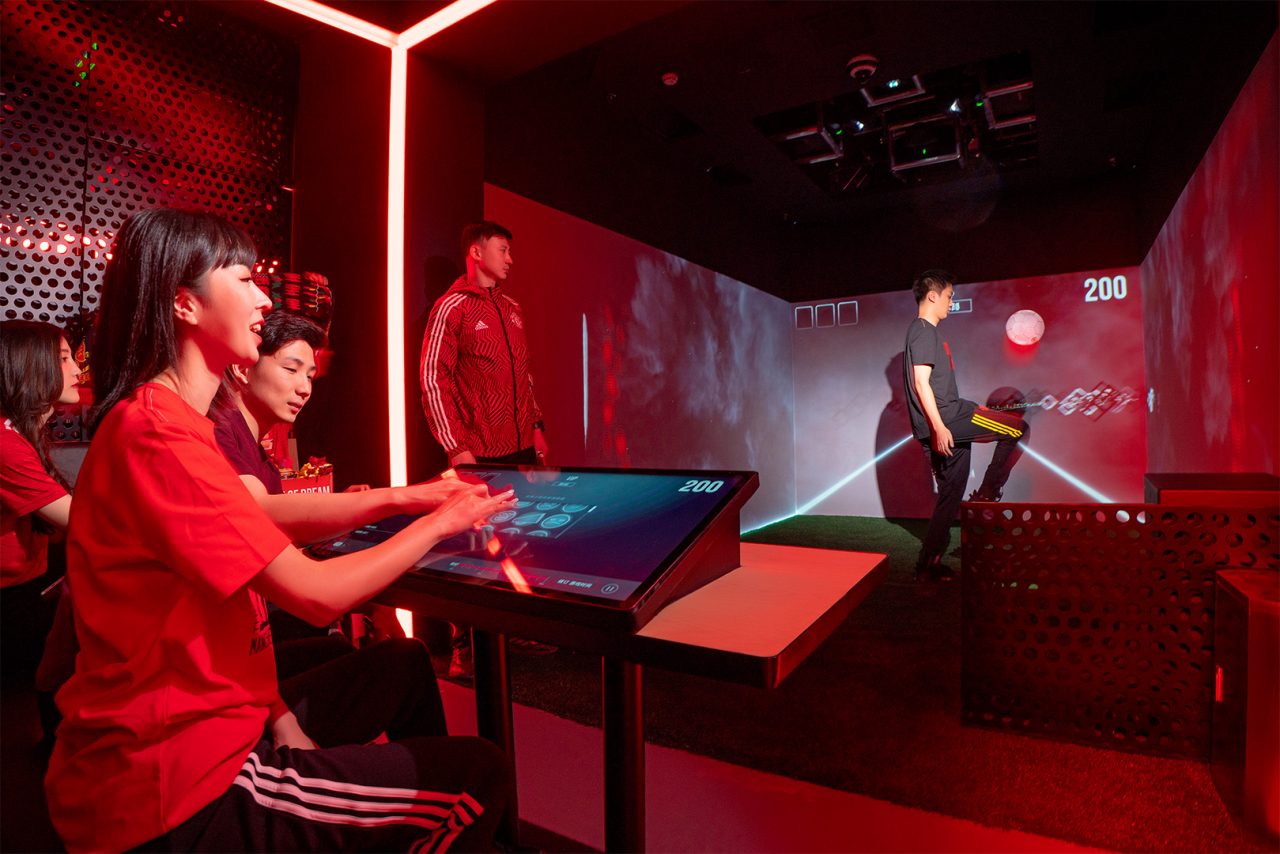 Enter the DreamCube
On the lower floor of the experience, visitors embark on a journey with the Manchester United team in an interactive gaming experience inspired by their most memorable final matches. Each "Dream Cube" features an interactive "bench" and seating, a customized, motion-trackable football, and immersive projections covering all three walls as well as the ground. The Manchester United gaming bays feature 17 different Dream Cube spaces, sectioned off based upon the layout of the real Manchester United stadium.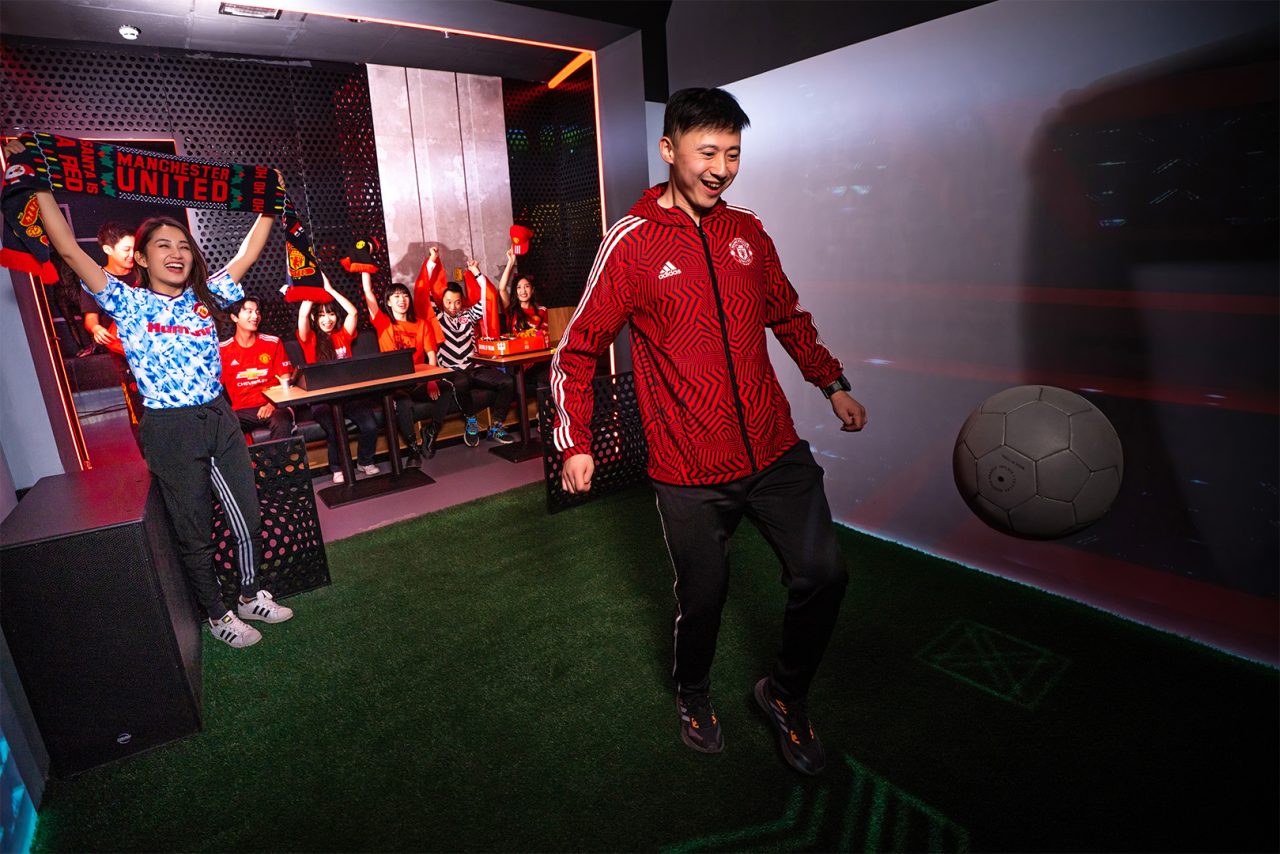 Capturing the Emotions of Match Day
Visitors play through six levels, encountering real-world environments like Old Trafford and Camp Nou which provide context for their pursuit, as well as surreal environments like the Lands of Shadows and the Land of the Infinite Climb which bring to life all of the hopes, fears, and symbols that define a memorable match. After visitors make game selections at the "bench" they use a football to navigate through the projected game environments. Friends can also send virtual encouragement to the player on the virtual pitch.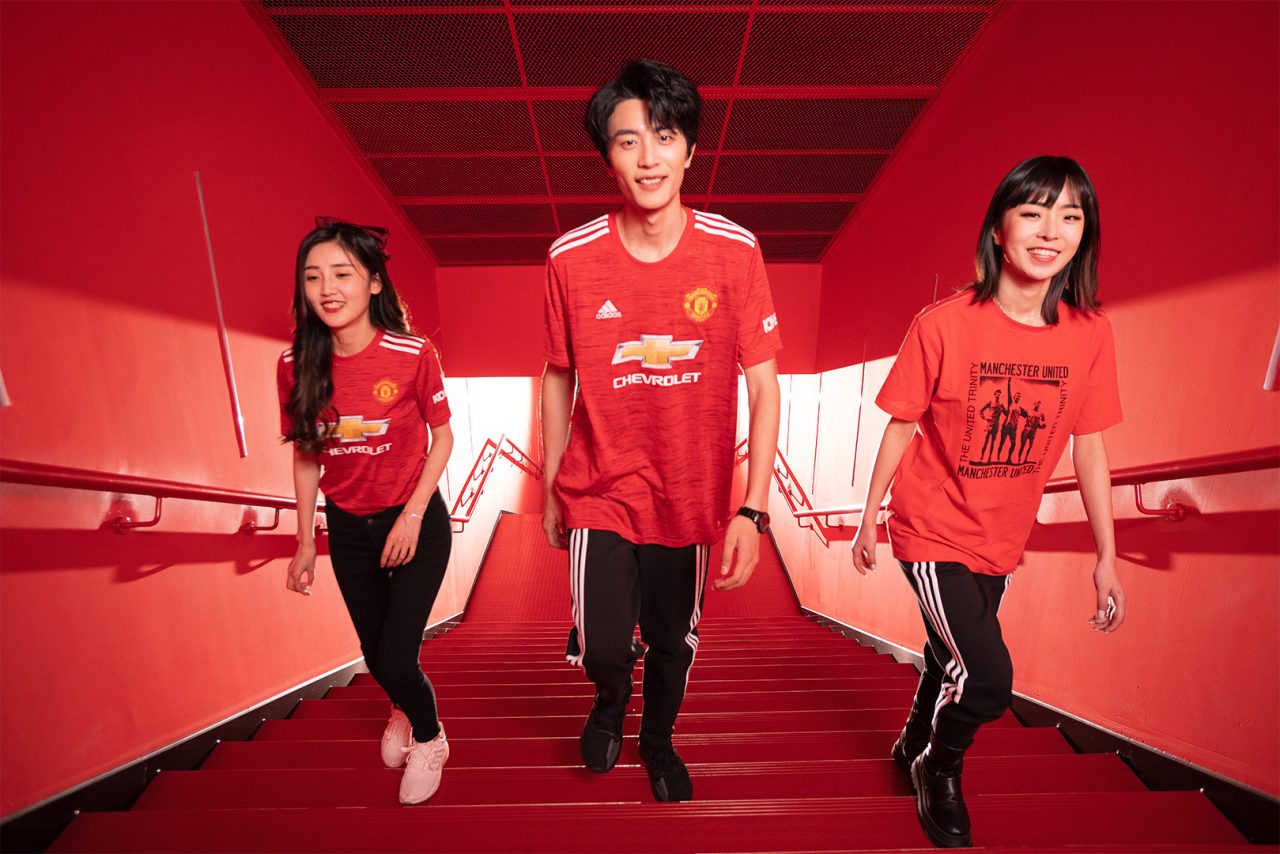 The Sights and Sounds of Old Trafford
As visitors ascend into the museum portion of the experience, they are immersed in sound and light that heightens the anticipation for what is ahead. The glow of Manchester United red fills the stairwell as the roar of the crowd grows, simulating the arrival to Old Trafford stadium of match-day.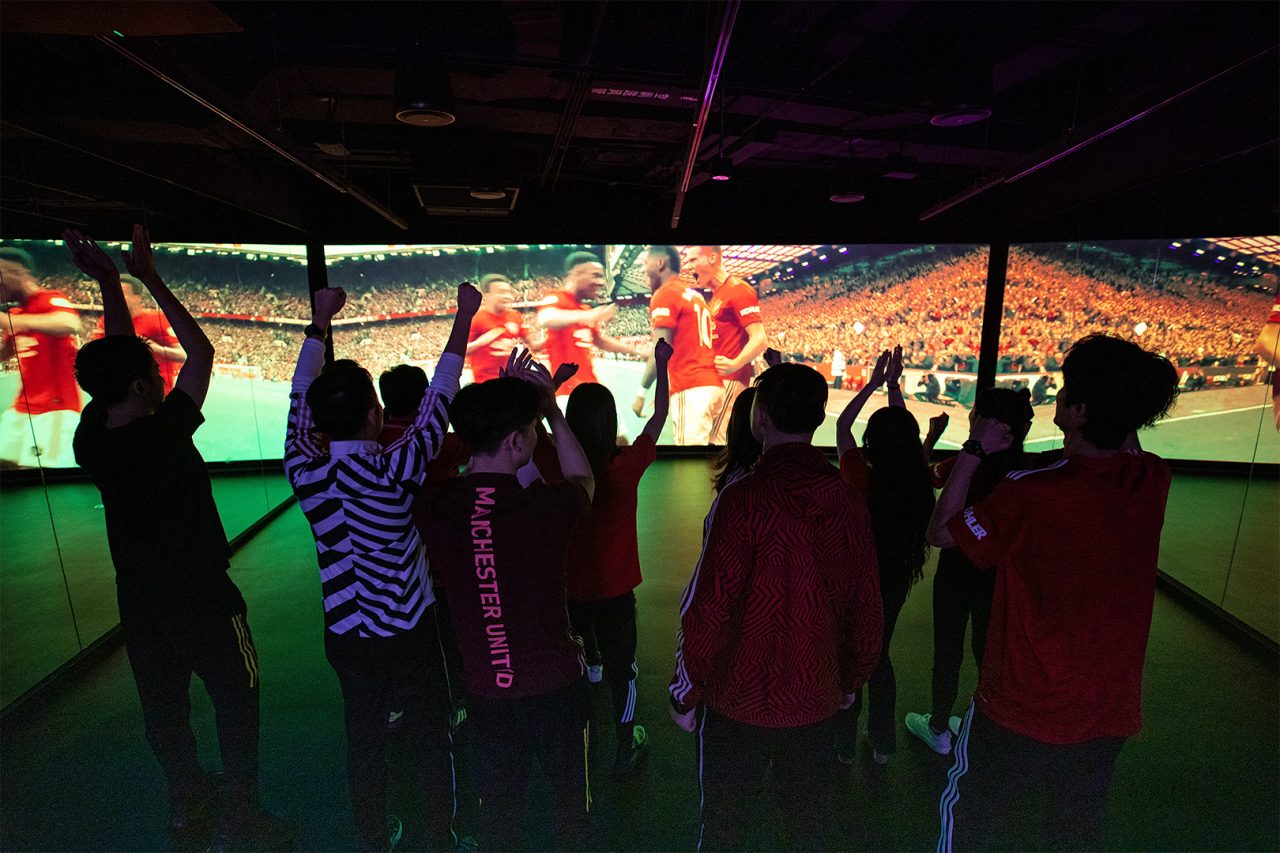 Mirrored Introductory Theater
Visitors step onto the pitch today and are transported through space and time to the early years of Manchester United, bearing witness to key moments that built the foundation of the team's history and core values. Mirrored walls and projections create a kaleidoscope effect that fully immerses the visitor.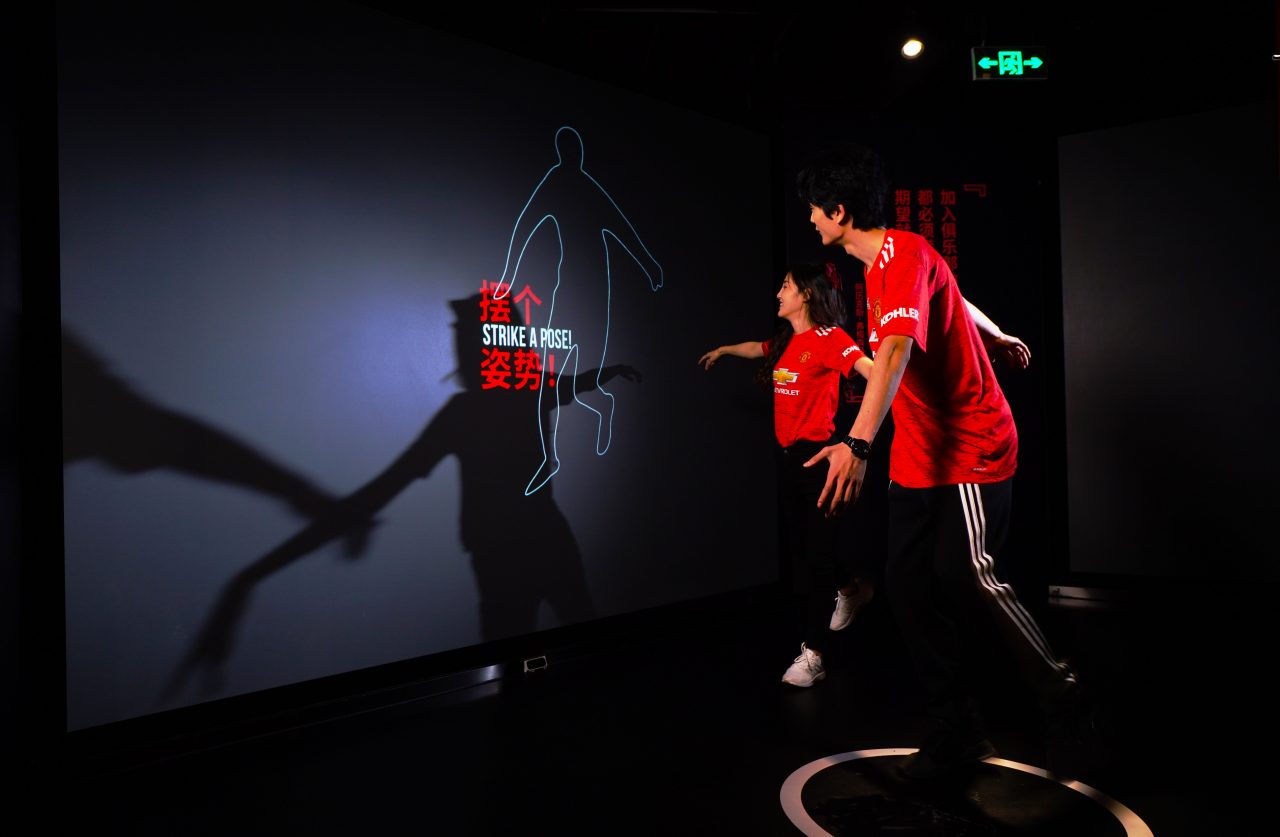 Strike a Pose
Visitors strike a pose to reveal footage with similar poses from key wins and amazing moments. Media tells a cohesive narrative about the importance of a particular season or win, and the team's hard work on the road to success, immersing visitors in incredible chapters of the story.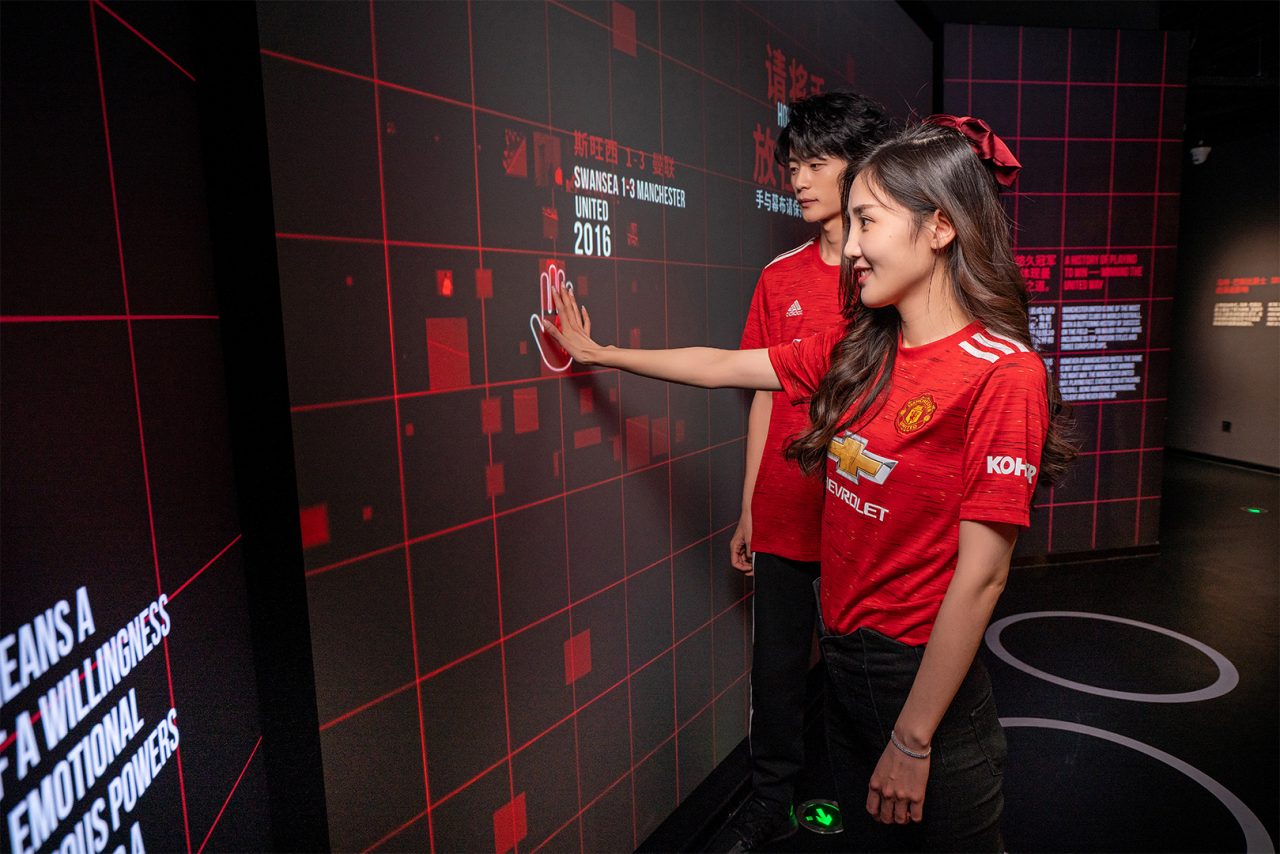 Push the "Net"
A visual "net" leads visitors towards a capstone interactive zone, which opens to reveal video clips focused on key moments of success over the years. Visitors visually see Manchester United's continued excellence in motion.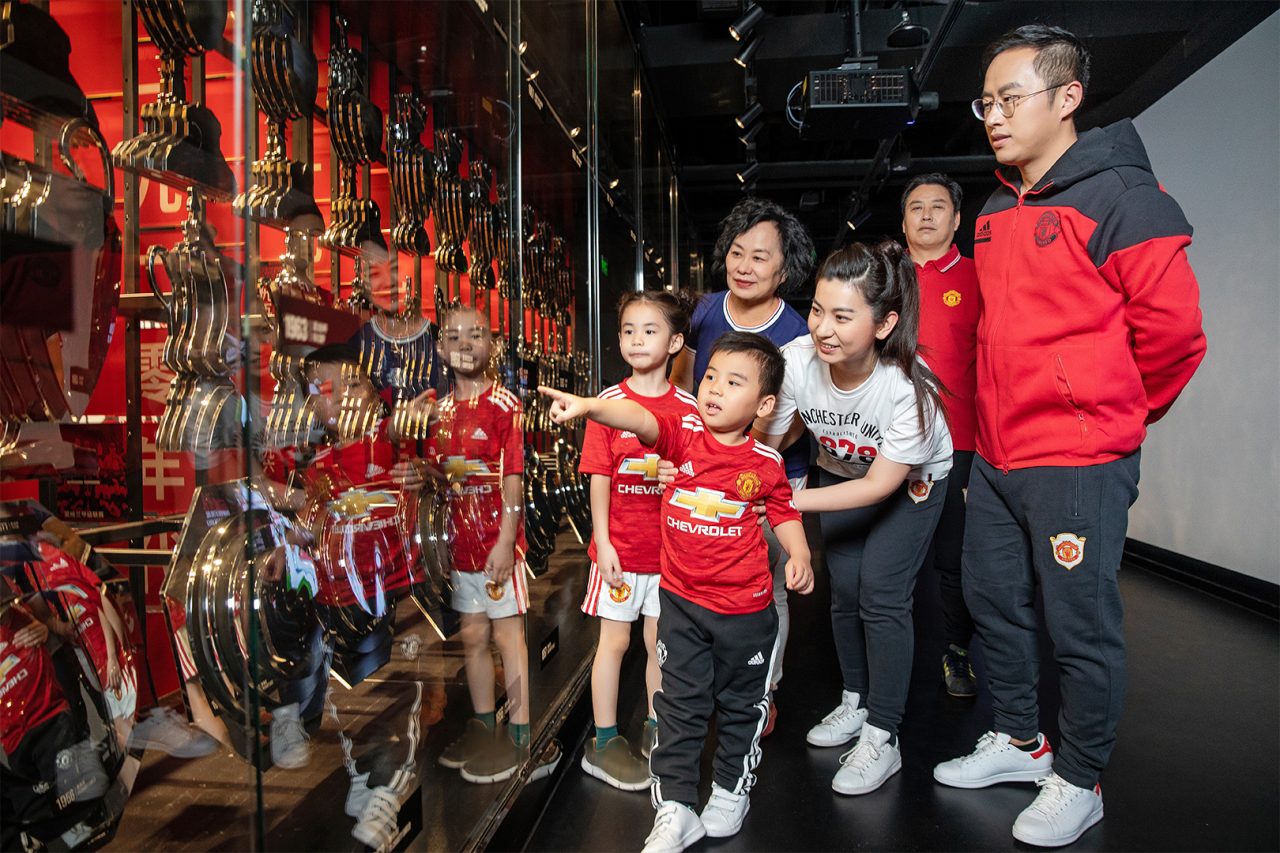 The Champions Wall
Visitors encounter some of the club's most defining moments in football history. A central wall invites visitors to dive deeper into the club's history of excellence. Visitors activate immersive audiovisual alcoves with poses and props, triggering incredible and winning moments.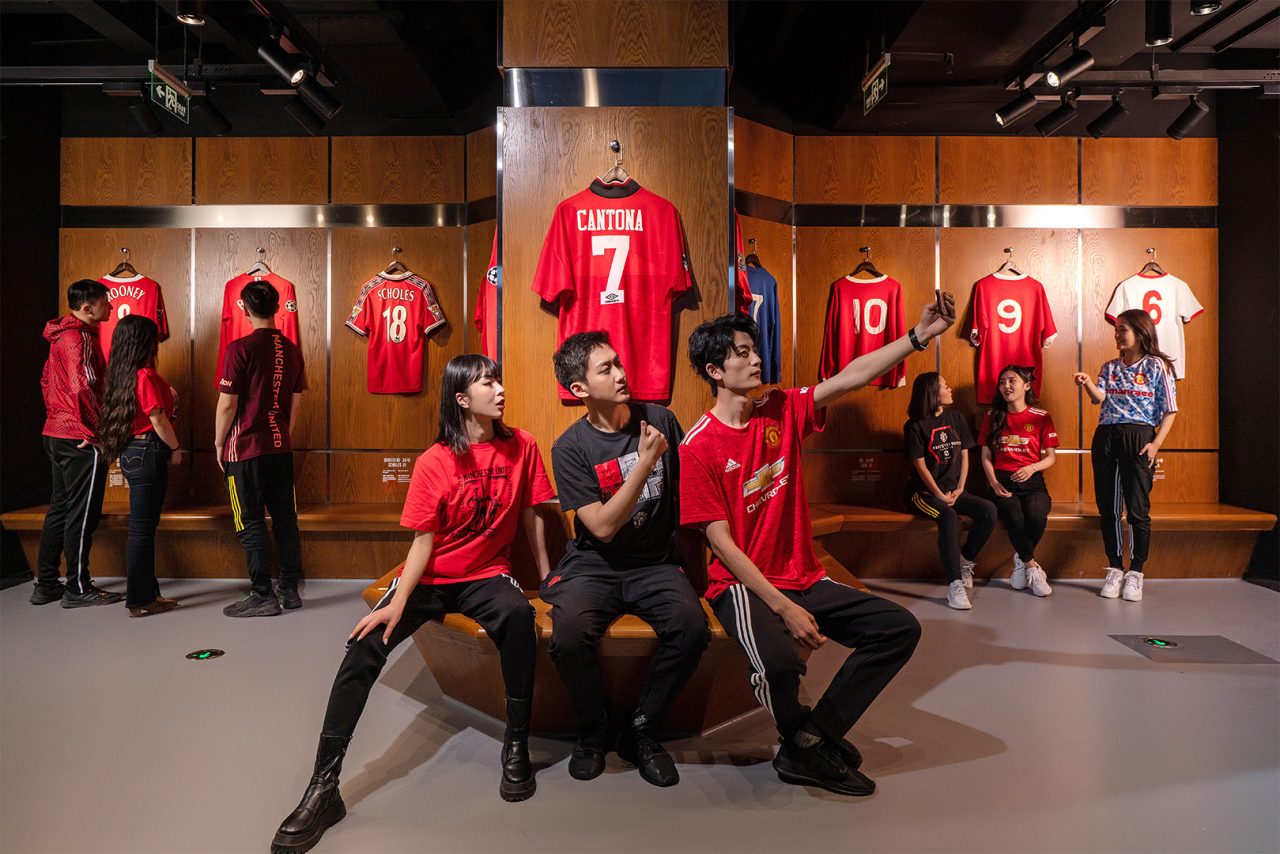 Interactive Dressing Room
Visitors step into a recreation of a Manchester United dressing room, going behind-the-scenes to meet the masters, learn their strategies for success, and deepen their connection to the values of the club. Visitors are able to take photos with iconic jerseys while immersive media moments allow visitors to hear from coaches like Sir Alex Ferguson.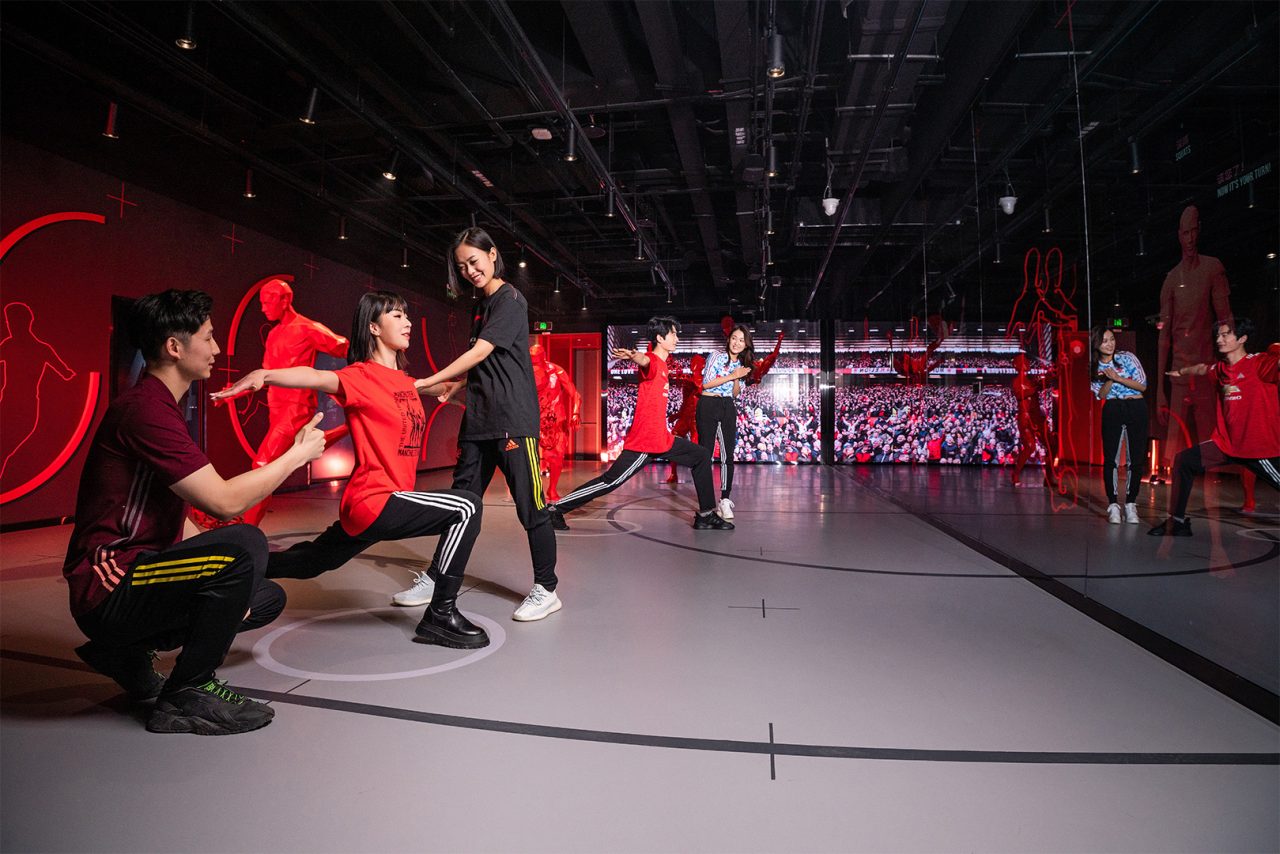 Test Your Skills
Visitors become part of the team through a variety of interactives that challenge visitors to train, see, and contribute to the Manchester United global community. Physical sculptures of iconic players in mid-match poses offer physical examples of their unique playing-styles and skillsets while another interactive allows visitors to test their own skills, training alongside a Manchester avatar.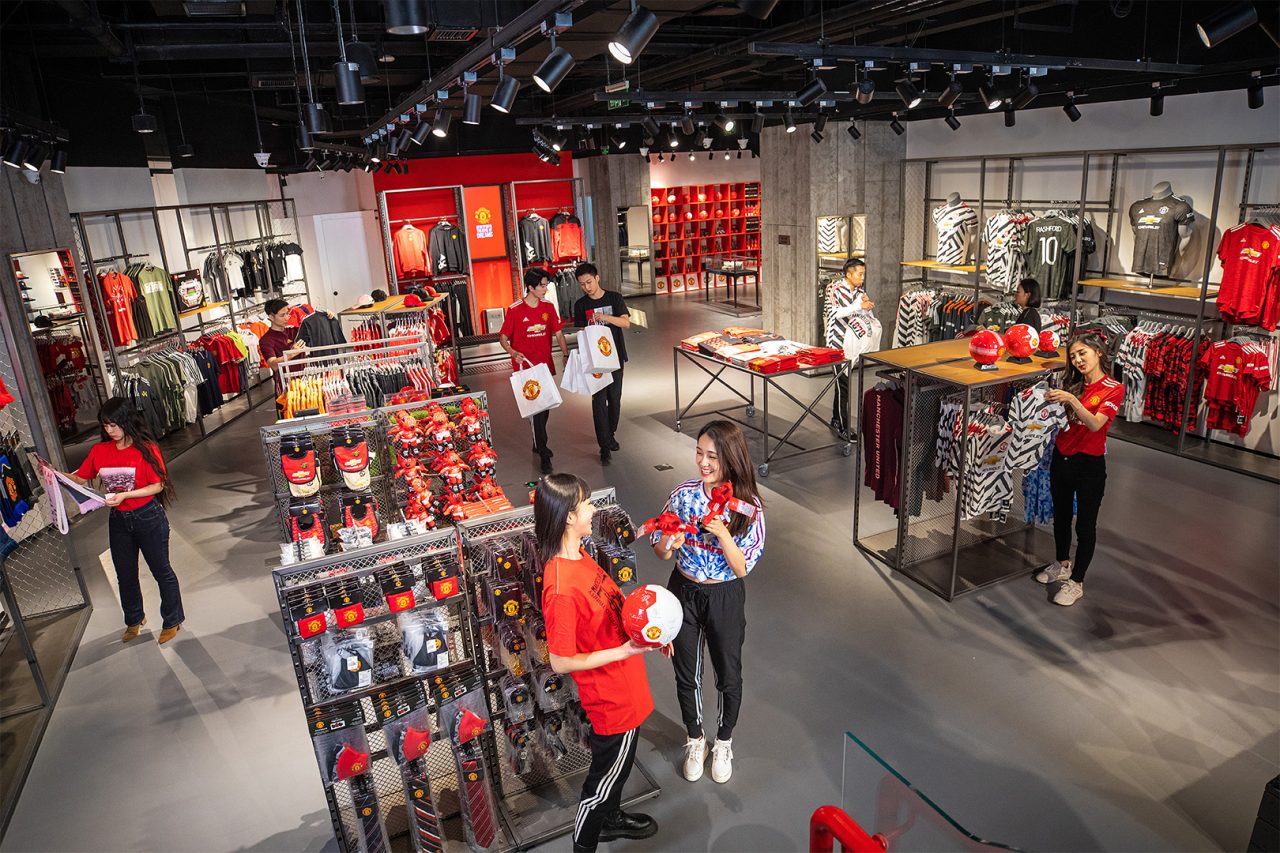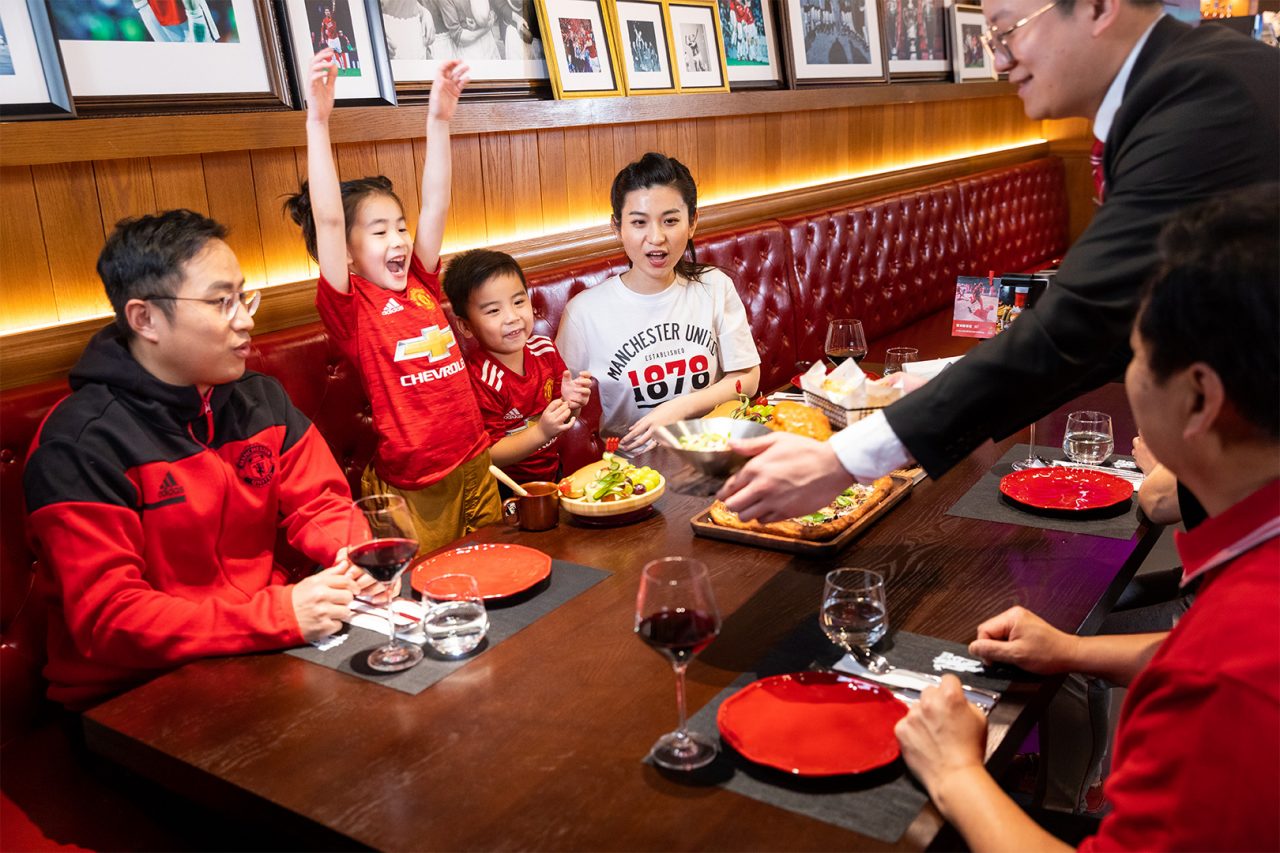 Enviable Retail and Authentic Pub Fare
Visitors to the Theatre of Dreams can pick up the latest Manchester United FC merch, including China exclusives, and sample authentic English pub fare.